End of Life Poems:
---
Websites:
---
Children and Pet loss: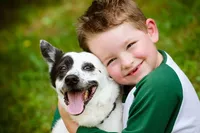 Losing a pet is often the first loss experienced by a child. Understanding how a child grieves will help to prepare everyone during this difficult time. Children and Pet Loss
Children's story books:
The Heaven of Animals. By Nancy Tillman
Life is Like the Wind. By Shona Innes
---
Books:
The Art of Racing In The Rain. By Garth Stein
Cold Noses at the Pearly Gates. By Gary Kurz
---
Dr. Kirsten is available by appointment only. Dr. Kirsten will do her best to accommodate individual client needs and will often be able to schedule same day appointments. Services provided by At Home Vet Services on weekends and evenings after 8:00 pm are subject to an additional fee. Travel distance over 40 km will also be charged a travel fee.